The archive of torre do Tombo is one of the main means for the elaboration of its genealogy and to find its ancestor sephardic, the first stage to apply for Portuguese citizenship. Knowing this, we've worked out a step by step that will help you use the file.
It is important to highlight that this tool is useful for those who have already found references (name, place where he was born, lived, died etc.) of an ancestor of the sixteenth, seventeenth or eighteenth centuries and for those who have Portuguese descendants prior to 1911.
There are two modalities of research. We use simple search when more is lacking information or we do not have exact information. In advanced research,we achieved more accurate results.
Good research!
1. Simple Search

1.1. Select the field below "Search documents," enter the name of the ancestor you want to search for, and add the word "Inquisition." If you have more data, place in the same field the city in which you resided and/or the name of your parents.. E.g.: Antônio José da Silva + Rio de Janeiro + Inquisition.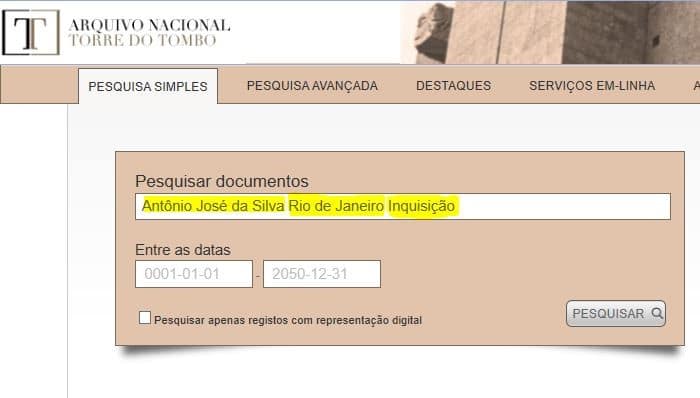 1.2. Enter the start and end dates, if you wish, that correspond to an interval that is the period your ancestor lived. E.g. For an ancestor who lived in the first half of the 18th century, enter the initial date of 1700 and end of 1750.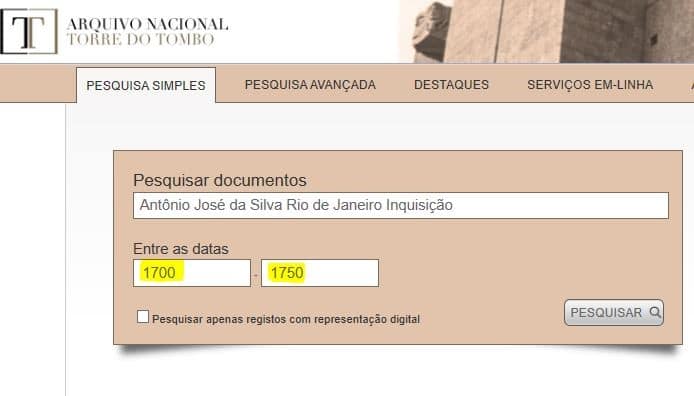 1.3. Select the result that best suits the terms searched. If you find a prosecuted ancestor or who has been a parent of a defendant prosecuted for Judaism with christian-new status, congratulations! That's great proof that you have a sephardic as an ancestor.
1.4. By selecting the process, you can view more data about the defendant. Some processes are scanned, and you can see the digital images of the document by clicking on the "view" option indicated next to it.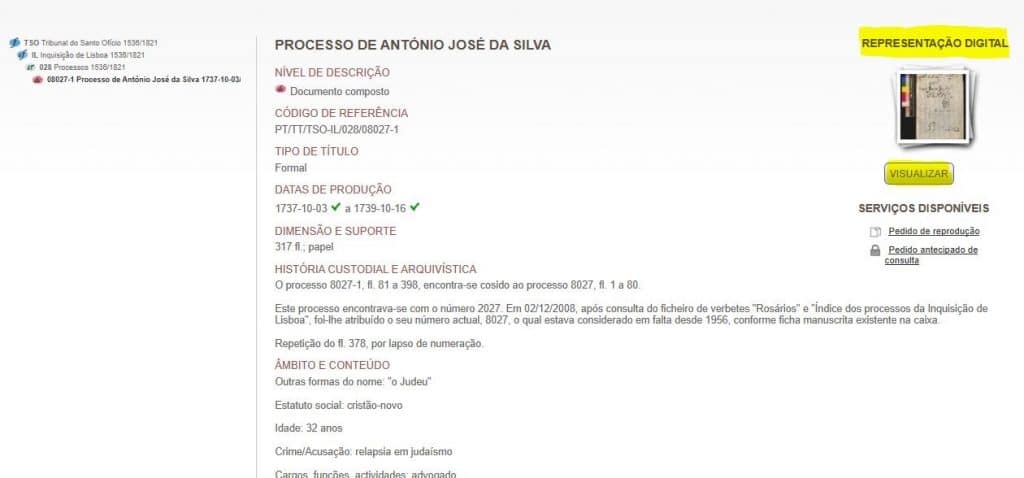 2. Advanced Search
2.1 Select the "Advanced Search" option from the panel above.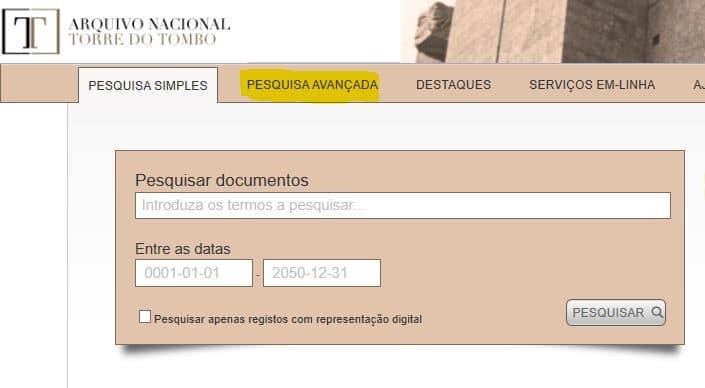 2.2. Select the "Title" field and enter the name of your ancestor.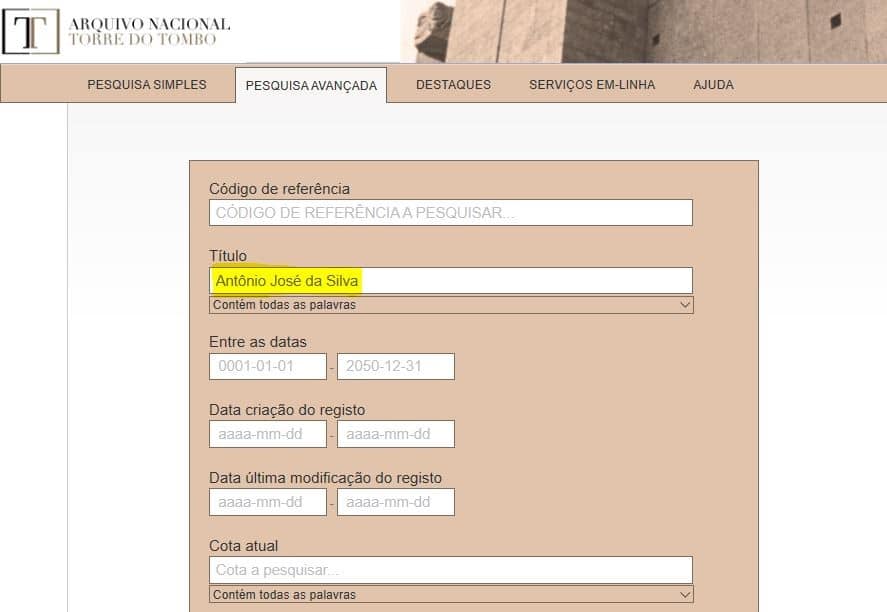 2.3. Fill in the initial and final dates in the two "Between dates" fields, from the interval that corresponds to the period that your ancestor lived.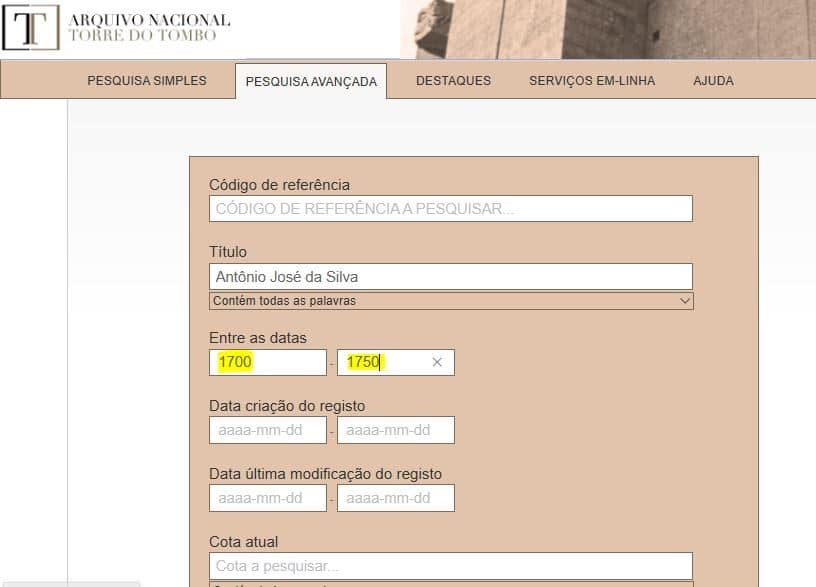 2.4. Fill in the "Current Quota" field (a document classification type) with the term "Inquisition" or "Christian-new", for example. You can also add more accurate terms such as "Lisbon", "Coimbra" or "Évora" to better filter the results. Example: Lisbon inquisition for defendants' proceedings in Brazil.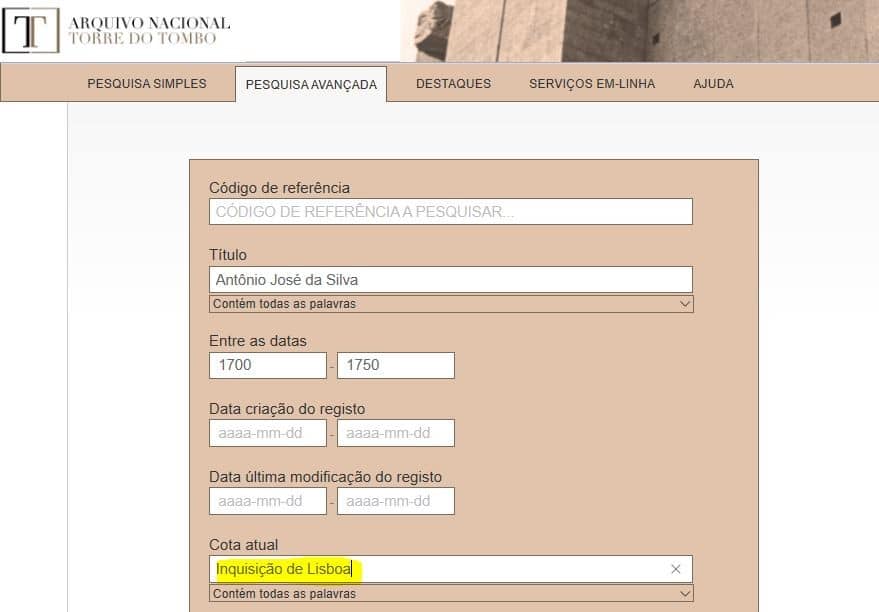 2.5. If you want to add additional information, simply click "Search in other fields" and fill in the "Scope and Content" field with information such as locale and ancestor affiliation to be searched.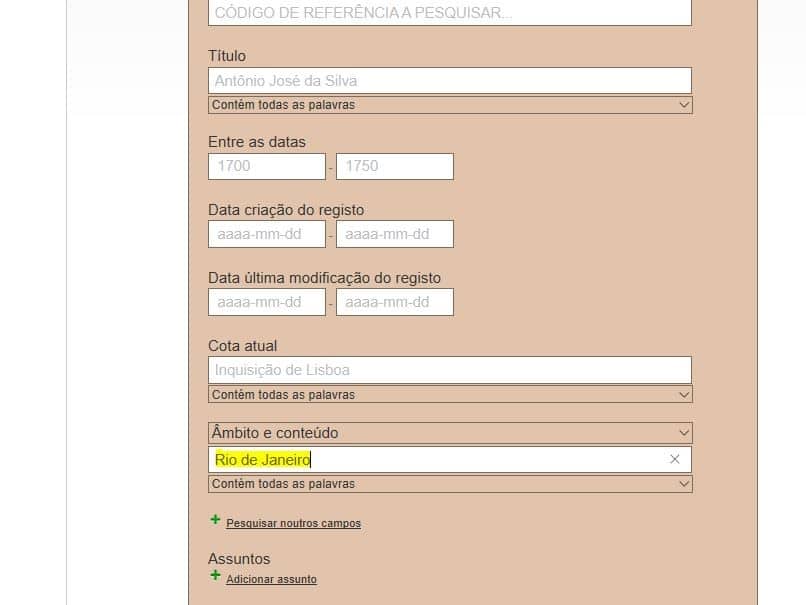 2.6. Click search and if any results match your ancestor select and see process data. If you confirm the data as your ancestor's, congratulations! You have proven sephardic ancestry!
Now just add this documentation to your genealogical study.