---
Portuguese law paves the way for Brazilian families to discover their Jewish origins
---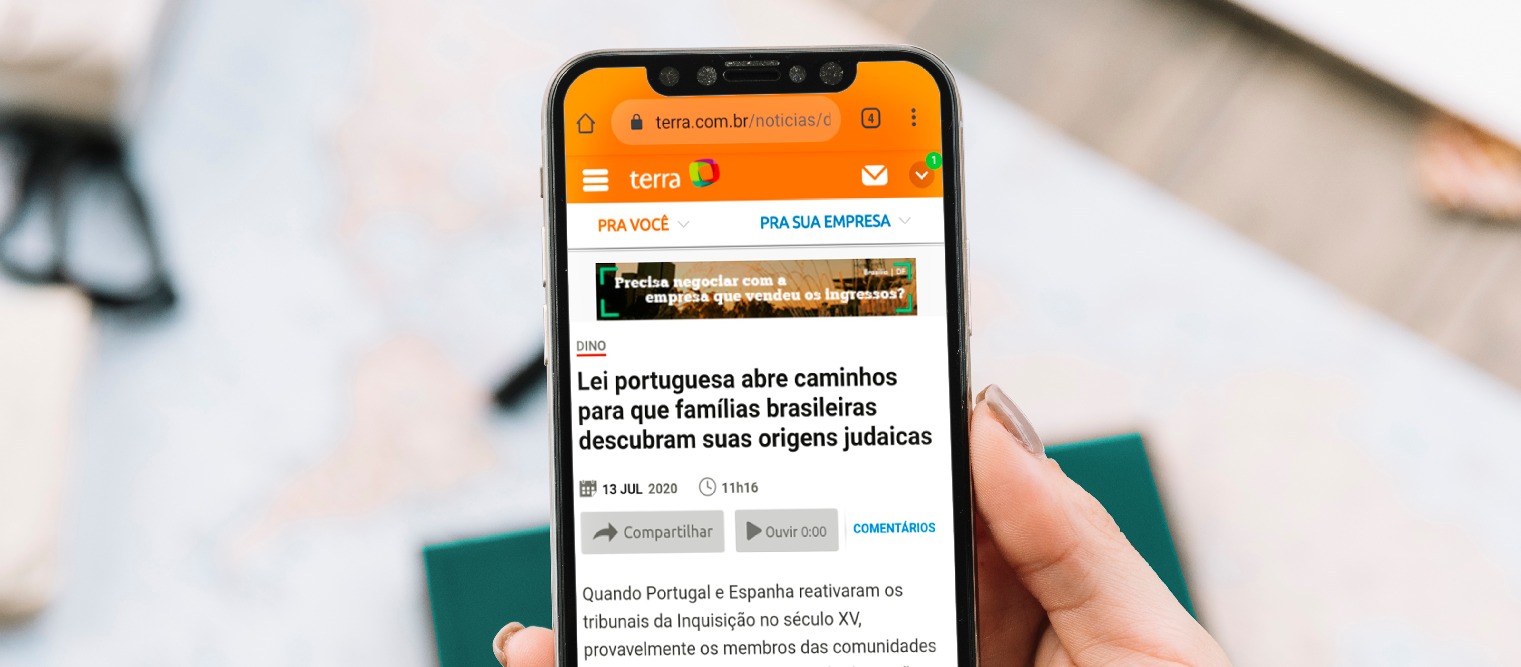 When Portugal and Spain reactivated the Inquisition's courts in the 15th century, probably the members of the Jewish communities in those countries, the Sephardim, did not expect that their lives would suddenly change completely. Persecutions, arrests and executions forced hundreds of thousands to flee, abandoning their homes, their possessions and often being forced to convert to Catholicism. Those who took refuge in Brazil left millions of descendants, most of whom do not even imagine having this Jewish bond.
This is the case of Júlio Junqueira (29), from São Paulo, who heard about Sephardic history for the first time while still at school, but did not think it would be possible to prove it. Years later, living in Germany, where he is a master's student in law and teaches the language of that country, he again had the curiosity to research the subject and was surprised.
HERE YOU CAN START BUILDING YOUR GENEALOGICAL TREE.
"Thankful was the surprise when I received the contact from the office informing me that, according to the result of a genealogical assessment, I was a descendant of Jews who had fled the Inquisition in Portugal", says the professor, who is already making plans to join the Portuguese community, a country whose culture has always attracted him.
With Julio's discovery, eight of his relatives went in search of these Portuguese origins. "When I found out, I told all the members I had contact with and many of them were interested to know about this part of our family. When we saw the stars of David on our family tree, indicating who our ancestors were, we were filled with joy. I still remember very clearly the excitement in my mother's voice at seeing this tree. It was exciting", he recalls.
If in the past it was something to be hidden, the Jewish legacy has become a rescue of their own identity for Sephardic descendants, who, in addition to rediscovering their origins, can apply for Portuguese nationality through naturalization. Since 2015, the Portuguese government, through Law No. 1/2013 and Decree-Law 30-A/2015, has granted Portuguese nationality to descendants of Sephardic Jews.
HERE YOU CAN START BUILDING YOUR GENEALOGICAL TREE.
"The granting of Portuguese nationality in this way has a transgenerational reparatory character, in the sense of restoring the nationality of the descendants of those who suffered from the persecutions. By applying the law, Portugal is making peace with its past and allowing hundreds of families to rescue their identity", assesses lawyer Renato Martins, from Martins Castro Advogados Associados.
Marcelle Guimarães Cavalcanti (41), from Pernambuco, after discovering that she had the right to Portuguese nationality through the Sephardic route and starting the process, encouraged another 20 family members to do the same. "Many of my family are preparing to live in Portugal when the process is complete. My son even became interested in studying about Judaism after this discovery", he reveals.
It is interesting to note that interest in Sephardic Jewish culture is strengthening among families that apply for this type of nationality. This is the case of André Luiz Brandão (41) who, after discovering that he was a descendant of Leonor Henriques, who was condemned by the Portuguese Inquisition, began to study Jewish culture and even the Ladino language. Her mother, Sílvia Brandão (71) emphasizes that the search for ancestors helped to unite current generations.
"The story of Leonor's suffering and resilience was opened to all of us. I tried to study the past more to further value the riches found by the information of my son André and also to rescue the story of my father, António, inside me, celebrating the union of our family members who were very distant and our descendants, who almost didn't. they knew each other", she tells emotionally.
Published in Portal Terra.
---
---